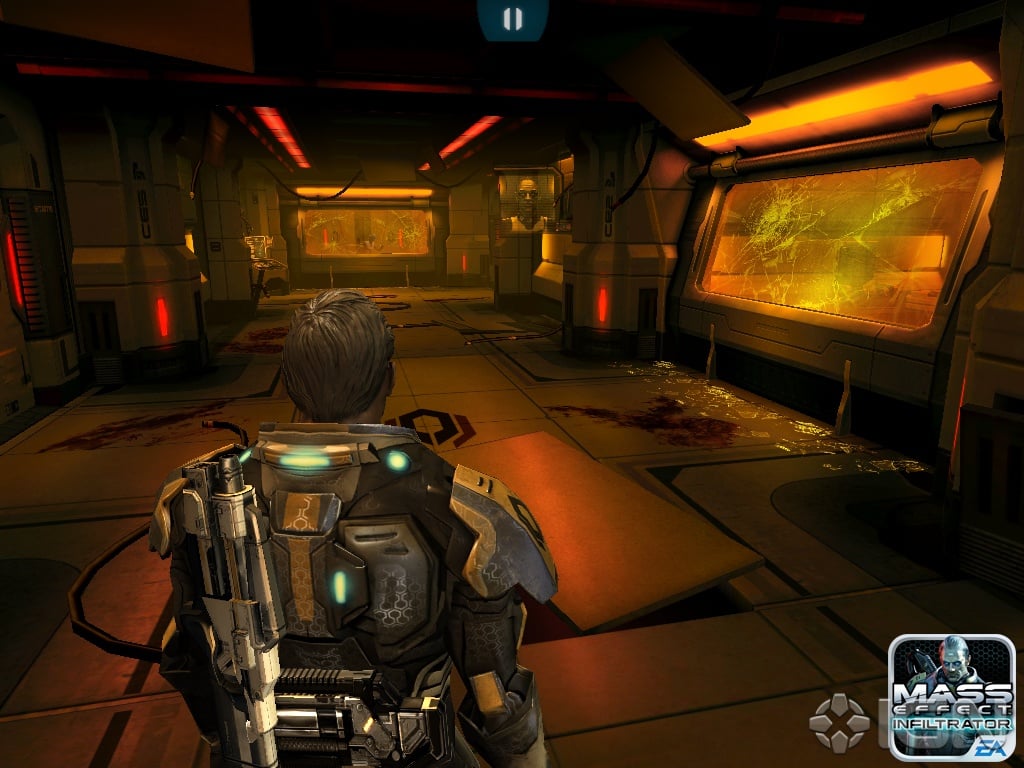 Mass Effect has seen its share of popularity these past months, and to keep it up, Electronic Arts and Bioware have been kindful enough to consider the under-represented population of the iPhone an iPad community. To show us their love, a 3d Mass Effect has finally reached the portable platform, and it hits hard.
Basically, the story puts you in the place of the rogue agent Randall Enzo, on an agenda to destroy the pro-human organization known as Cerberus. In order to enact his overthrow, Enzo namely infiltrates the Cerberus prison facility in order to rescue the poor and defenseless aliens held their, who have been subject to a number of horrible experiments.
If the title didn't hint off enough, most of your time in the game will be spent either ducking cover, blasting enemies, or trudging down the long but graphically inspired sectors of the Cerberus facility. What this does mean for the Mass-Effect-Addict is that there will be no woman for Enzo to "mess with" (though it doesn't seem like Enzo would try to if their were). In fact, there are barely any RPG elements at all, a key hallmark that gave Mass Effect its popularity amongst shooters. Of all the moments in this glorified campaign, the only real choices you really get are the fate of the scientist and a few dialogue/action options. 
As for the gameplay, the game developer tries its best to make the process simplified, and fails. Instead of just giving us a few virtual buttons to cover, all leaps of faiths are all controlled by touch swipes and gestures. This whole process simply over-complicates the whole shooter formula, and simply looks unnatural when you are trying to land a perfect movie-style dodge and roll from an explosion (you'll most likely die due to unresponsive controls).
Aiming at enemies is also a new perspective to look into. Instead of spraying the battlefield like your in Modern Warfare 2, you can actually only aim at 1 enemy at a time, through a lock-on system that lets you point to your next victim. This both works effectively, and makes you feel more like a specialized infiltrator than a slightly-off grunt.
Graphically, if you've played Dead Space or N.O.V.A 2, you have a good idea of how the game looks. On a 4S and an iPad 2, the performance feels smoother than butter, but my old and cynical iPod 4g has had touch times trying to process this monster.
Overall, the game is a pretty decent game, one that really only deserves the popularity it deserves because of its signature name. While certainly above iOS standards, the game still doesn't stack up against games such as N.O.V.A 2, Modern Combat, and Battlefield 2. The game is at currently slated at $6.99, but whether you think the odds stack over the evens is really more of your choice. In my opinion, its just barely worth it.